Make a batch of these homemade dog treats for all your furry friends! Made from 5 ingredients, and baked in under 30 minutes.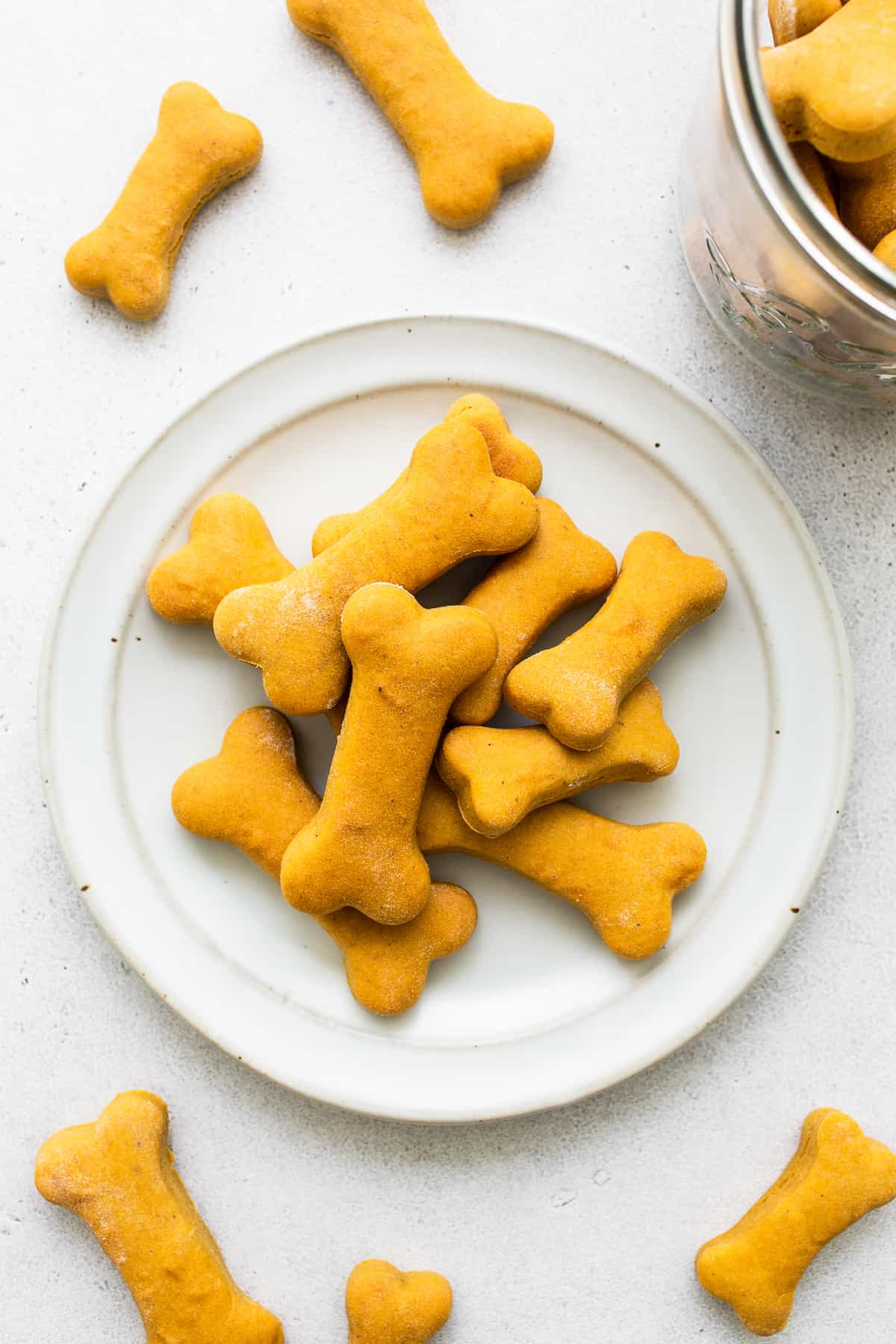 Easy Homemade Dog Treats
These homemade dog treats are easier than driving to the pet store to buy some! You'll love that these treats are made from 5 simple ingredients that you can feel good about giving your dog, plus, aren't they cute?!
Why you'll love 'em!
5 ingredients: all you need is sweet potato puree, peanut butter, an egg, flour and baking soda! Plus, we're sharing some easy ingredient swaps you can make in your kitchen if you don't have all the ingredients on hand.
Dogs love 'em! Everyone on Team Fit Foodie has a dog, and every single one of our pups <3 these treats.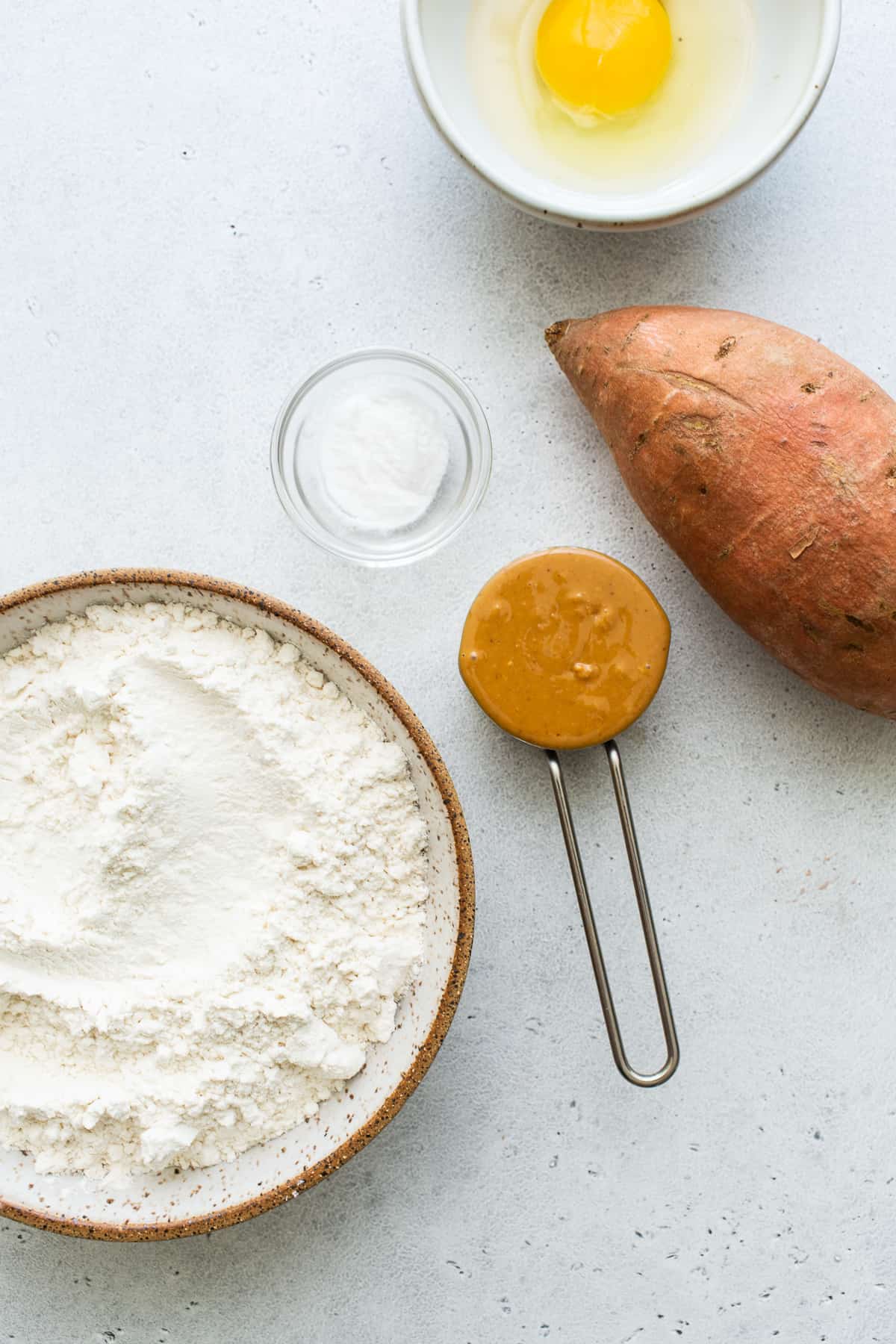 Ingredients for Homemade Dog Treats
Make these homemade dog treats with just 5 ingredients. You'll need:
Pureed sweet potato
Drippy peanut butter 
Egg
All-purpose flour
Baking soda
Easy Ingredient Swaps
Pureed sweet potato –> pumpkin puree
Drippy peanut butter –> any other drippy nut butter
All-purpose flour –> oat flour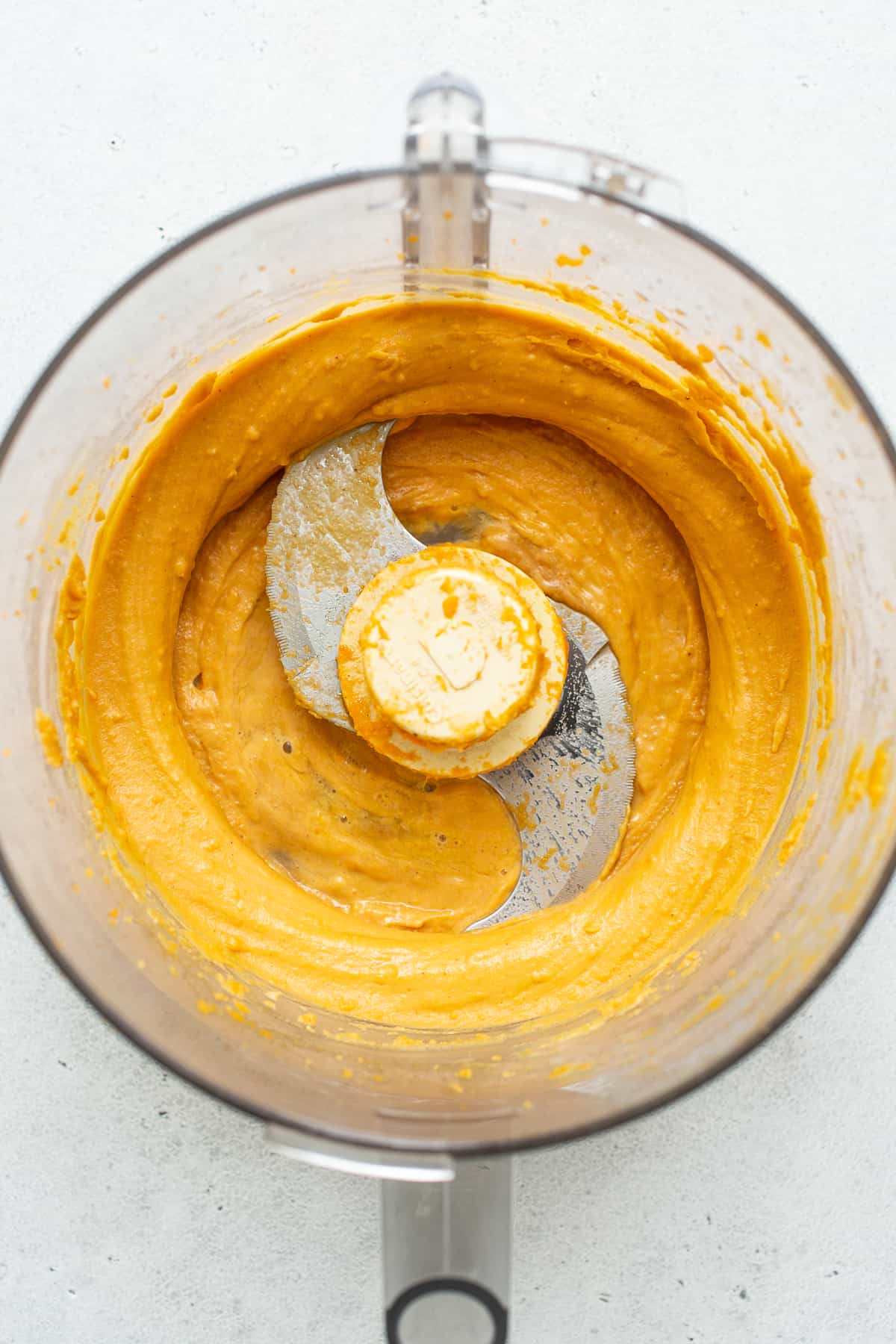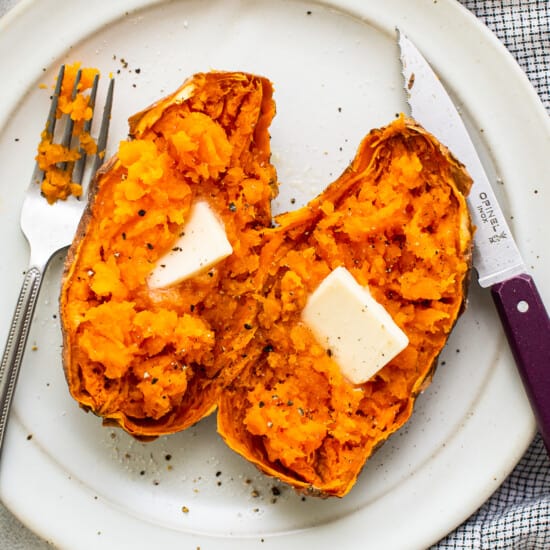 try it!
Microwave Sweet Potato
It only takes 8 minutes to cook a sweet potato in the microwave. You will have a sweet potato ready to use in these dog treats in no time!
get recipe
How to Make Homemade Dog Treats
Cook Sweet Potatoes
Slice the peeled sweet potato into ½-inch thick rounds. Use a fork to poke a few holes in each round. Place the potatoes on a microwave-safe plate and microwave them on high for 5 minutes. Flip the rounds over and cook them on high for another 5 minutes until fork tender.
Puree Sweet Potatoes
Transfer the sweet potatoes in a food processor and blend until completely smooth. Measure out ½ cup of sweet potato puree. Place the puree into the refrigerator for about 10-15 minutes to cool. 
Add Peanut Butter
Once chilled, place the sweet potato puree back into the food processor along with the peanut butter and process the two ingredients together until smooth. 
Add Egg
Add the egg to the food processor and pulse the egg with the other ingredients until combined. 
Add Flour & Baking Soda
Add the flour and the baking soda and process on low until the ingredients are combined and the dough forms a ball in the food processor.
The cookie dough is a stickier cookie dough so you may want to wet your hands when handling the cookie dough.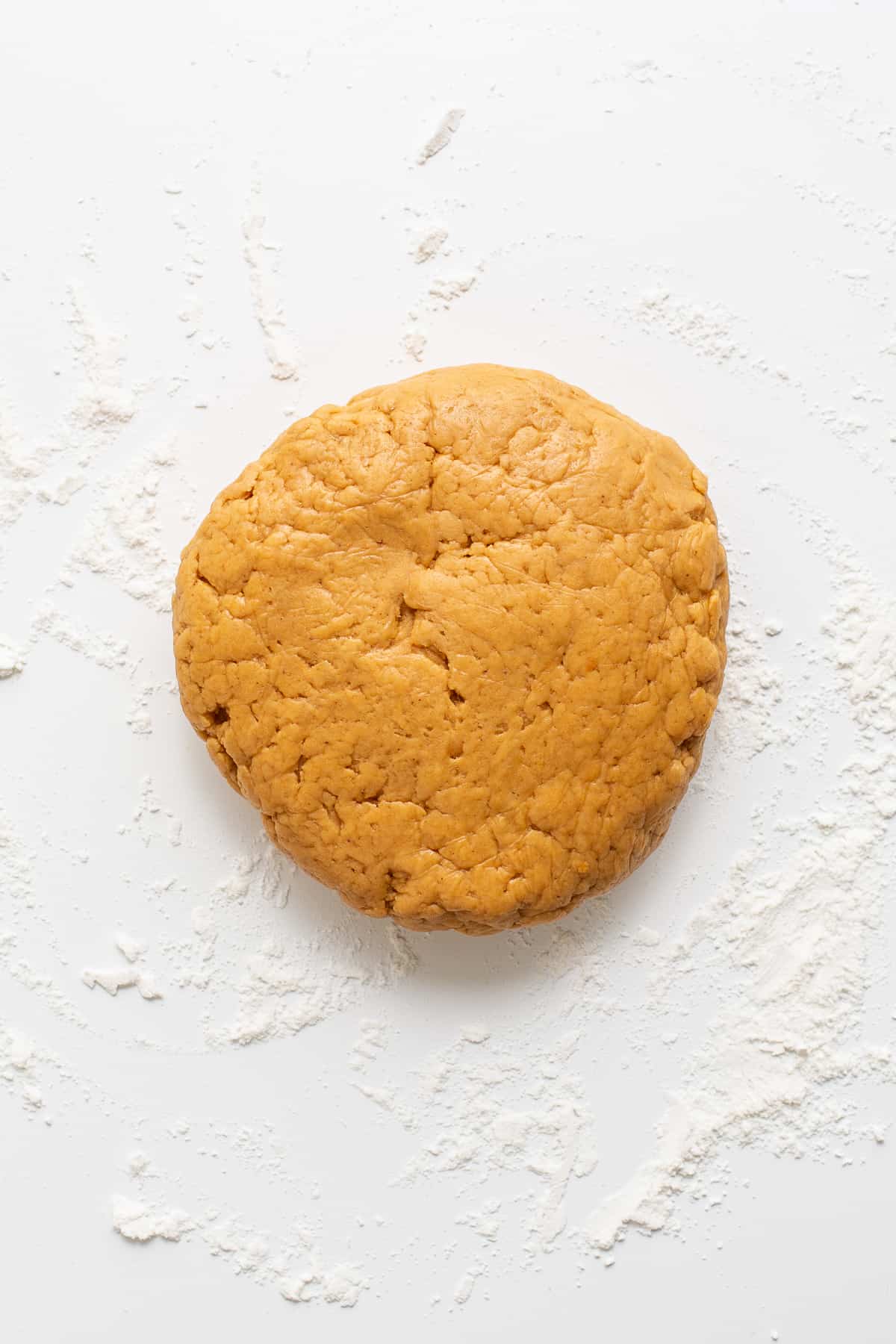 Refrigerate Dough
Remove the dough from the food processor and wrap the dough in plastic and place it in the refrigerator for 30 minutes. 
Cut Out Dog Treats
Remove the dough from the refrigerator and prepare a clean surface by dusting it with flour. Roll the dough out with a rolling pin to about ¼ -inch thick. 
Use small/medium cookie cutters to create dog treat cutouts. Place shapes onto your parchment-lined baking sheet. Don't worry about spacing too much, the cookies will not expand that much.
Bake Dog Treats
Bake the cookies for 10-12 minutes or until they begin to brown. Remove the cookies from the oven and place the cookies on a cooling rack until completely cool. 
Enjoy!
Place the cookies into an airtight container and serve cold to your doggies!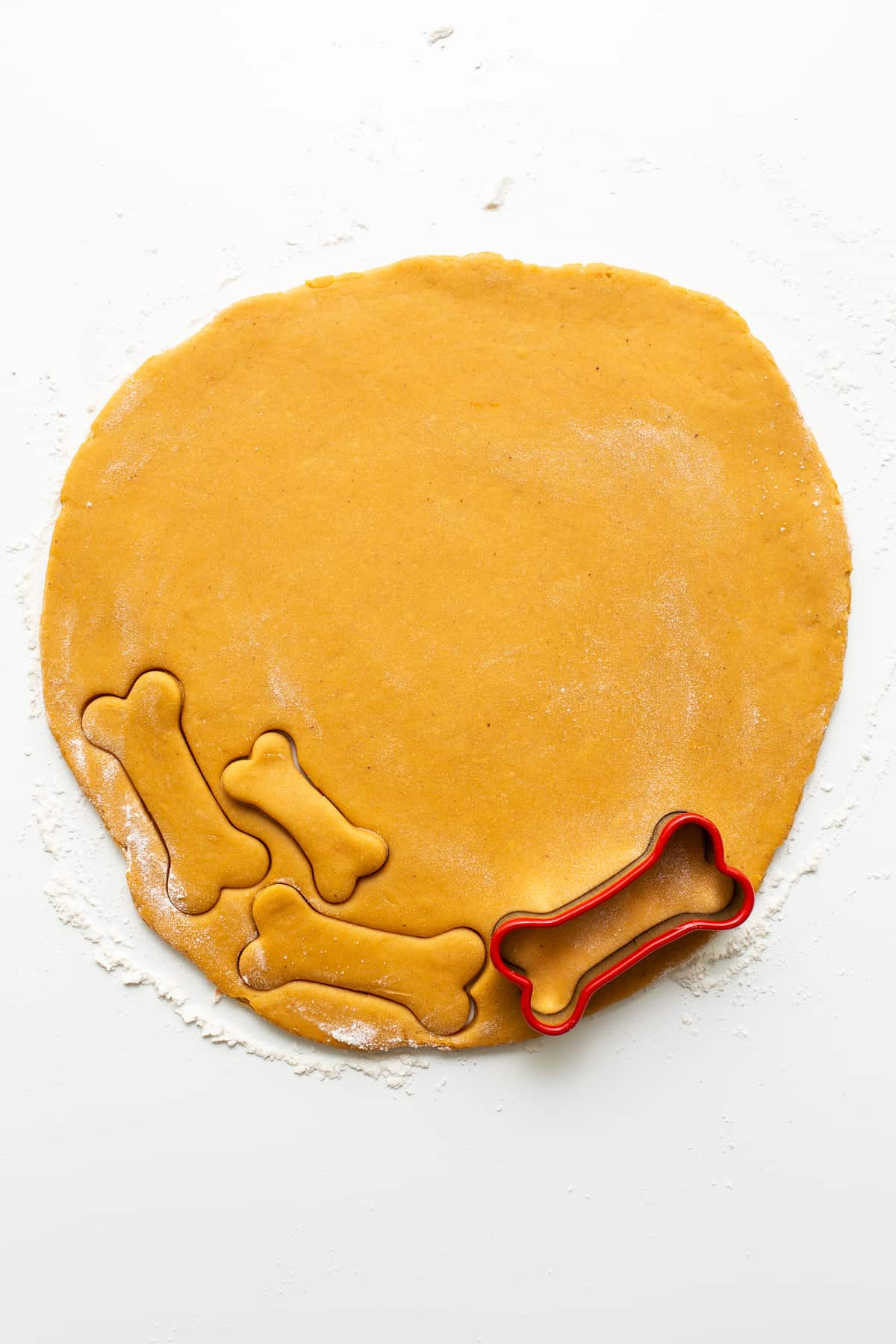 Top Tips for Homemade Dog Treats
If the dough is too sticky or wet to roll out: place it back into the refrigerator or add a bit more flour. 
Store in the freezer: these dog treats will keep for up to 3 months when stored in an airtight container in the fridge.
FAQs
What is safe to put in homemade dog treats?
Sweet potato or pumpkin puree, oats, flour, eggs and peanut butter make for delicious ingredients in homemade dog treats.
What ingredients should NOT be in dog treats?
You should avoid corn syrup, artificial coloring, excessive sugar and salt in homemade dog treats.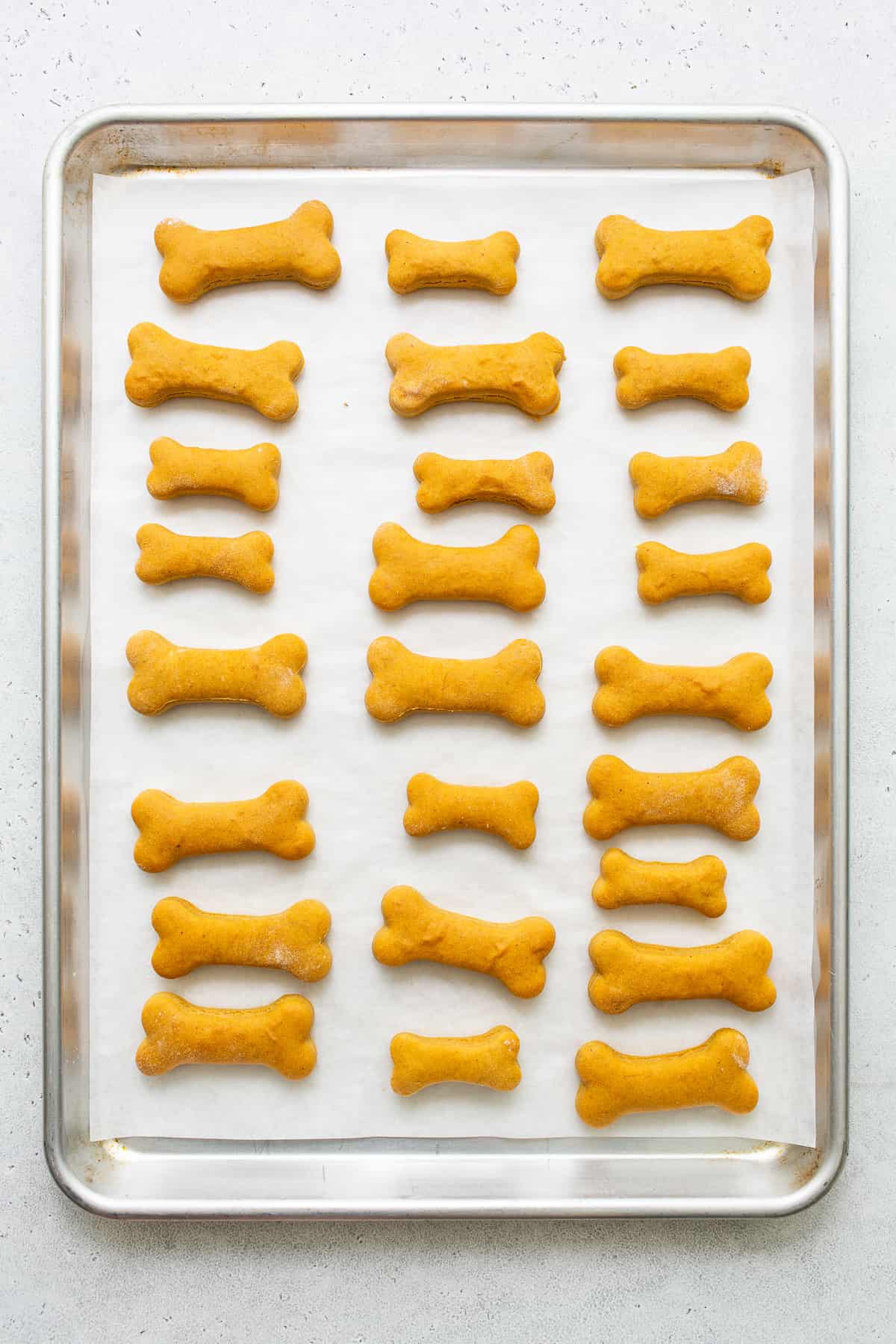 Storage
Store these homemade dog treats in an airtight container in the fridge for up to 5 days. Since they're made with perishable ingredients, they will not keep as long as shelf stable dog treats.
To freeze: Let the homemade dog treats cool completely, and then transfer into an air tight container, removing as much as as possible. Store in the freezer for up to 3 months.